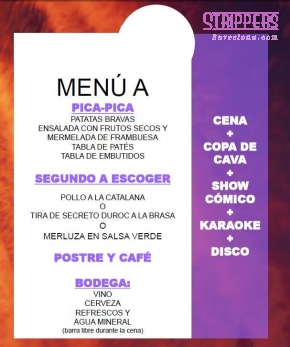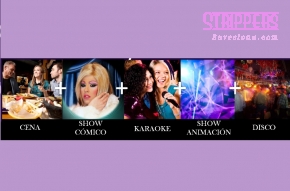 Enter the premises from 9:30 p.m. and all included!! Don't worry about anything, just have fun!
Upon arrival, our staff will receive you to capture in a photograph what will be one of the best nights of laughter, fun and warmth…
We will start the evening with a succulent self-cooked dinner and set menu, always enlivened with our fabulous Comedy Show.
Laughter and good music are guaranteed in this part of the night.
In the second part of the evening the singers will be you, enjoying a fun karaoke.
After letting the artistic skills of the guests fly, you will be offered a toast to warm up your engines for what will be the busiest part of the night.
In our a la discobar you can discharge all the accumulated adrenaline.
Fun is guaranteed for both large groups and smaller groups, there is no minimum number of attendees.
Our closing time is at 3am. in the morning
All this is included in the price that appears in the menus that we attach below…
ALL INCLUSIVE – NO SURPRISES
The menus are prepared in our own kitchen, at the moment by our chef, it is not a catering service, which guarantees the quality of our dishes.
MENU 2020:
1st DISH pica pica…
SPICY POTATOES
DRIED FRUIT AND RASPBERRY JAM SALAD
PATES TABLE
SAUSAGE TABLE
2nd DISH to choose between…
CATALAN CHICKEN
OR GRILLED SECRETO DUROC STRIP
OR HAKE IN GREEN SAUCE
CELLAR: Wine, Beer, Soft Drinks and Mineral Water (open bar during dinner)
DESSERTS: Desserts and Coffees
Price…
DINNER + GLASS OF CAVA + ANIMATION SHOW + KARAOKE + DISCO
ALL: 30 euros / all per person.
Hen and bachelor parties in Sabadell, but due to its location close to the motorway, parties and events are also usually organized for clients who organize original bachelor and bachelorette parties in Barcelona, ​​Terrassa, Sant Cugat, Bellaterra, Cerdanyola, Sant Quirze…
+INFO – RECRUITMENT:
In our offices:  PUNT FESTA / PUNT LOVE
Our commercial Oriol will assist you.
687596221 (with whatsapp).
649333787
(from 10 a.m. to 10 p.m.)
938606063 Granollers Office
935705109 Mollet Office
(from 10 a.m. to 1 p.m. and 5 p.m. to 8 p.m.)