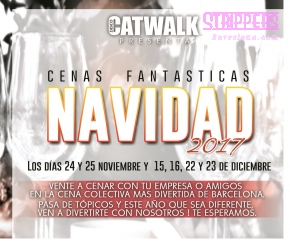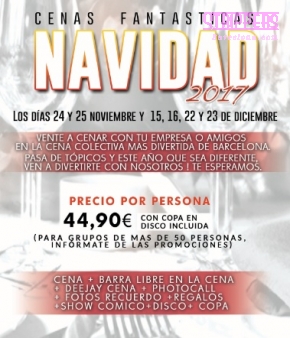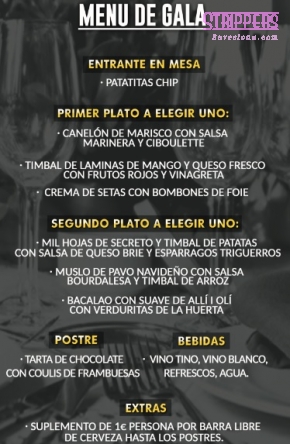 Come and have fun with your colleagues, in our sessions that we have selected for all of you, in the funniest dinner of the year.
Break the routine of the typical boring dinner in the same restaurant as always and come and enjoy the dinner shows that we have organized and a disco in the same space.
What do we propose? The best room in Barcelona with a discotheque in the same space until 6:00 am, a stellar performance by our drack showman, a Christmas show by our "horny" Santa Claus, with lots of humor!! surprise raffle every night, deejay during dinner with the best songs of all time, 1 drink per person, disco and lots and lots of partying so you never forget tonight!
Trust us this year and you will not regret it
• Enjoy the selected days: NOVEMBER 25 AND DECEMBER 15, 16, 22 AND 23
• Same menu for both rooms, same price and shows, this year don't run out of space and have a great time with us, we have a capacity of up to 400 seated people.
• If you prefer, a cocktail-type menu only for your company and a private show at www.camarerosfalsos.com (find out more).
• CATWALK room with capacity for 400 seated diners and more than 700 in cocktails (2 rooms + terrace)
• CATWALK room in a disco session, offers two rooms, one with all hits/pachanga music and another room with house music, open until 6:00 in the morning in the best leisure area of ​​Barcelona, ​​the Paseo Marítimo.
DINNER with open bar of Sangría + humor shows + games + DJ + raffle + entrance with drink at Barcelona nightclub.
Prices from €44.90 per person, all included!
No minimum number of people per dinner.
Plus: Possibility of exclusive days for large groups!
+INFO – PUNTFESTA RECRUITMENT:
Our commercial Oriol will assist you.
938606063 Office
687596221  (whatsapp).
(de 10h. a 21h.)